Description
Simple, easy-to-use golf watch
Sleek, lightweight and comfortable with a high-resolution, sunlight-readable display
Provides yardages to the front, back and middle of the green — as well as hazards and doglegs — on more than 41,000 preloaded courses worldwide
Keep score on the watch for a summary of your round, total distance played and total time
Upload your scorecards to Garmin Express™

 

to keep track of rounds
Rechargeable battery plays up to 12 hours in GPS golf mode
If you want to stay focused on your game and the course, this is your golf watch. Based on your location, the easy-to-use Approach S10 golf watch automatically chooses the course you're playing from more than 41,000 preloaded courses worldwide with free lifetime updates. Then it provides yardages to the front, back and middle of the green as well as hazards and doglegs. Complete a hole, and it automatically transitions to the next hole as you walk from the green to the next tee box. And if you really crush one, you can measure the distance for bragging rights.
Know the score
For added convenience, keep score right on your Approach S10. At the end of your round, it provides a summary of your round showing total distance played, total time and score. And as a remarkably comfortable everyday watch, it also displays the current time and date plus sunrise and sunset times.
Go ahead — you can play a couple of rounds. Its rechargeable battery lasts up to 12 hours in GPS mode. And don't fear the water holes, because Approach S10 is water-rated to 5 ATM (50 metres).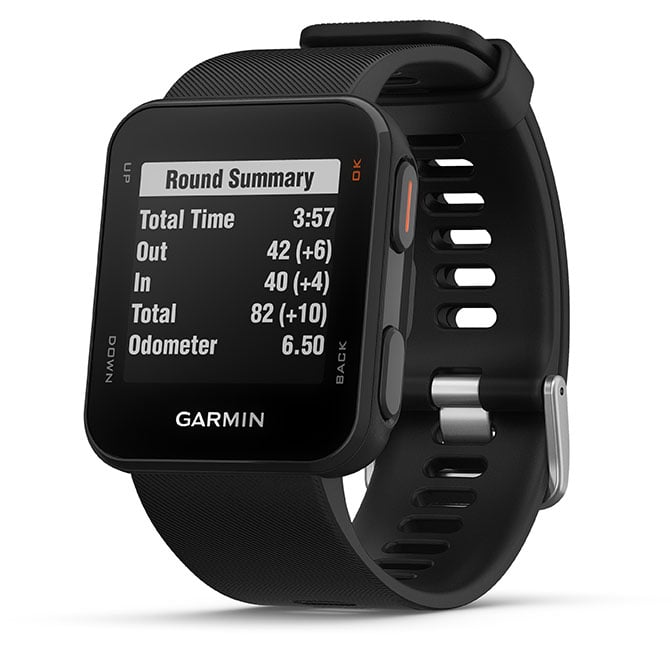 Track your game
Upload your scorecards for every round to Garmin Express to keep track of your game and scores throughout a season. You can also use the free Garmin Golf™ app to participate in weekly leader boards and tournaments.

General

STRAP MATERIAL
silicone
PHYSICAL SIZE
35.5 x 40.7 x 11.3 mm
DISPLAY SIZE
23 x 23 mm
DISPLAY RESOLUTION
128 x 128 pixels
DISPLAY TYPE
sunlight-visible, transflective memory-in-pixel (MIP)
WEIGHT
35.0 g
BATTERY LIFE
GPS mode: Up to 12 hours
Watch mode: Up to 14 weeks
WATER RATING
5 ATM
MEMORY/HISTORY
64 MB
Clock features

TIME/DATE
GPS TIME SYNC
AUTOMATIC DAYLIGHT SAVING TIME
SUNRISE/SUNSET TIMES
Health monitoring

HYDRATION
yes (in Garmin Connect™)
MENSTRUAL CYCLE
yes (in Garmin Connect™)
Sensors

GPS
Golfing features

PRELOADED WITH 41K COURSES WORLDWIDE
YARDAGE TO F/M/B (DISTANCE TO FRONT, MIDDLE AND BACK OF GREEN)
YARDAGE TO LAYUPS/DOGLEGS
MEASURES SHOT DISTANCE (CALCULATES EXACT YARDAGE FOR SHOTS FROM ANYWHERE ON COURSE)
Manual
DIGITAL SCORECARD
HAZARDS AND COURSE TARGETS
ROUND TIMER/ODOMETER
​
Swimming features
BASIC REST TIMER (UP FROM 0) (POOL SWIM ONLY)
Payment & Security
Your payment information is processed securely. We do not store credit card details nor have access to your credit card information.