Description
Fitness Tracker Fitbit Inspire HR
Do you want to improve your fitness and lifestyle? Then put your heart into it! The Fitness Tracker Fitbit Inspire HR Lilac with a wrist heart rate monitor tracks your heart rate day and night, helping you get the most out of your physical activity. Apart from that, it can also use your phone's GPS, so, if you often train outside, you will know exactly how far you went, ran or biked. Since it is water-resistant (50m), you can even go swimming with it. 
The backlit touchscreen display makes this fitness tracker a joy to use. Get inspired. Change your lifestyle and start improving your fitness with the right commitment and determination. The Fitbit Inspire fitness trackers are for everybody as they come in a variety of colors and sizes. It comes with two straps – shorter and longer – allowing you to choose the one that fits you best. And since the strap can be removed, you can get others in different colors for various occasions.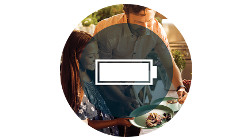 Tireless Helper
Even though it tracks your activity day and night, the Fitbit Inspire does not get tired easily. Thanks to the high-capacity battery, this fitness tracker can last as many as 5 days on a single charge. As a result, you do not have to worry about losing any training data.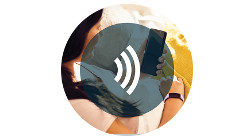 Always Connected
The fitness tracker automatically syncs with your smartphone via Bluetooth, allowing you to access your fitness data anytime and anywhere. The watch is compatible with more than 200 devices with the following operating systems: iOS, Android and Windows.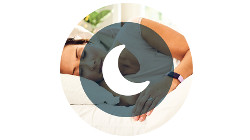 Counts Sheep for You
If you want to improve the quality of your sleep, you need to find out what you are doing wrong first. Set your wake-up time and the fitness tracker will tell you when to go to bed and then wake you up in the morning (vibration). Since the fitness tracker tracks your heart rate even when you are sleeping, you will get important information about the individual stages of your sleep.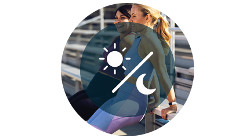 It Tracks Your Every Move
It may have the functions of an experienced stalker, but the Fitbit Inspire HR puts all the information to good use. All-day tracking of heart rate, steps and actively spent time will be reflected in your fitness assessment and friendly reminders to move. Moreover, heart rate tracking will help you make your workout more effective and find out where your fitness is at.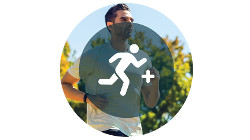 When You Start Training, It Will Take Notice
Thanks to Smarttrack, the fitness tracker knows whether you are running, walking, swimming, or cycling and immediately starts recording your data into the Fitbit app. As a result, you do not have to worry about forgetting to switch mode. This fitness tracker is always one step ahead of you.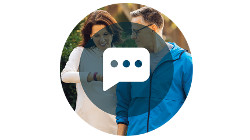 Keeps You Up to Date
With the Inspire fitness tracker, you do not have to constantly check your phone. The watch will notify you of any incoming messages and calls as well as upcoming calendar events.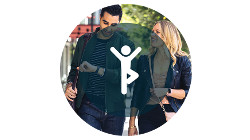 It Will Help You Get Moving
This fitness tracker brings more movement into your everyday life. It encourages you to be more active during the day by proposing short-term goals such as increasing your step count, etc. You can also try controlled breathing or meditation.

Technical description: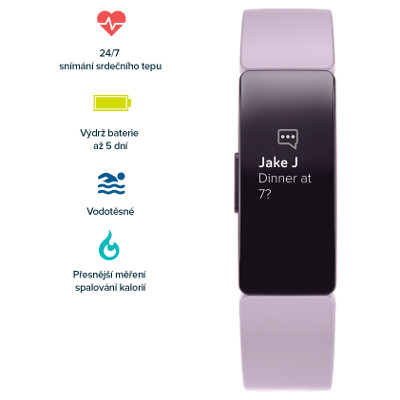 Bluetooth 4.0
GPS when paired with phone
Battery life: up to 5 days on single charge
SmartTrack – automatic detection of sports activity
PurePulse – automatic heart rate tracking (wrist heart rate monitor)
More than 15 sports modes, including swimming
Calculates current fitness based on heart rate
Backlit touch screen Greyscale OLED display
Strap can be easily replaced
Compatibility: iOS, Android, Windows
Charging time: 2 hrs.
Display diagonal: 40mm
Display size: 37 x 16mm
Strap width: 16mm
Water resistance: 50m
Strap material: silicon
Strap size: comes with two straps: S (14-18cm), L (18-22cm)
Weight: 20g
Know what your body needs
Automatic activity tracker (day/night) – the fitness tracker tracks not only your physical activity, but also the time when you are not doing anything or your sleep.
Sleep tracker – tracks sleep length and interruption, then wakes you up with a quiet vibration. Evaluation of sleep frequency allows this device to identify sleep stages and determine sleep quality.
Record your diet – record what you eat during the day and get information on how many calories you eat.
Breathing regulation – by tracking your heart rate, the fitness tracker will help you meditate.
Menstrual cycle tracker – allows women to track their menstrual cycle, keep track of the symptoms and calculate the ovulation period.
Record Every Training
Access GPS on your smartphone – when paired with your smartphone, the watch allows you to use the phone's GPS, thus enabling you to record your pace and distance covered.
Wrist heart rate monitor – tracking your heart rate will help you reach your goals. Using the optical sensor on the wrist, PurePulse tracks your heart rate at all times.
Long-term fitness tracker – the watch tracks your heart rate all the time, allowing you to keep track of your progress.
Water resistance – its 50m water resistance allows you to track your heart rate during swimming. However, it is not recommended to use the watch in saunas and/or Jacuzzis. 
Steps, distance, floors walked, calories burned, training time (min), daily schedule – track your physical activity during the day and save the data to the Fitbit app.
Automatic body activity tracker – the SmartTrack function determines whether you are running or riding a bike and saves your data to the app. 
Watch, stopwatch, alarm clock – track your physical activity and save your data to the Fitbit app.